Saving resources in textile façade design
Sustainable materials are still used far too rarely in textile architecture. Mehler Texnologies has developed a product that helps to fill this gap: TF 400 Eco F is an innovative, recycled material for textile façade design that is groundbreaking in terms of sustainability.
The TF 400 Eco F fabric comprises 100 % upcycled PET bottles. At the same time, the properties are very similar to those of conventional mesh fabrics. In 2021, it was awarded first place by the Architectural Membrane Association (AMA) in the "product" category, as the first material for textile architecture with fabric made from recycled fibers.
TF 400 Eco F is part of the VALMEX® product range by Mehler Texnologies, which stand out thanks to their weather resistance, UV resistance and durability, among other things.
Setting standards in sustainability: the new AMA Award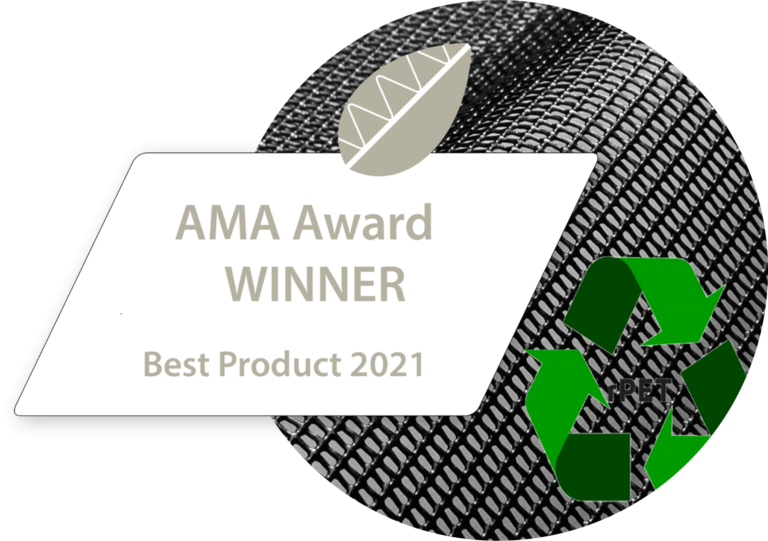 The AMA Award was presented for the first time in 2021 by the Architectural Membrane Association. It honors outstanding achievements in the field of membrane constructions that preserve natural resources and therefore have a positive impact on the ecological footprint. In awarding this prize, AMA aims to contribute to making building practices more sustainable and environmentally friendly. The AMA Awards are presented in four categories: products, projects, design and ideas. The TF 400 Eco F fabric from Mehler Texnologies' VALMEX® product line is the very first prize-winner in the "product" category.